Pug Mill for Paint
Manufacturer of a wide range of products which include pug mixer, pug mill mixer, pug mill and horizontal mixer.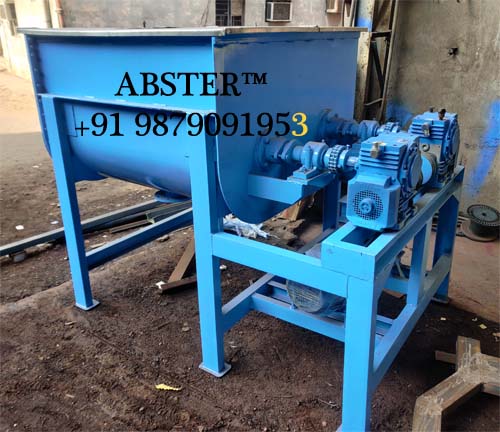 Product Details:
| | |
| --- | --- |
| Material | Stainless Steel |
| Brand | Abster Equipment |
| Usage/Application | Industrial |
| Grade | SS 304 |
| Capacity | 500 to 6000 kg |
| Automation Grade | Automatic |
Pug Mixer offered by us is manufactured in compliance with industry guidelines and consists of a center shaft of appropriate diameter. The center shaft of this equipment is fitted with specially designed agitator blades to provide contraflow action. Contraflow action ensures constant circulation and proper mixing or blending of ingredients. Ends of the equipment are installed with stuffing boxes on the shaft that prevent leaking of blended ingredients and stop them from entering into bearings. Furthermore, the shaft is supported by heavy-duty pedestals, thereby, ensuring efficient functioning of our ribbon blender/pug mixer. We have fabricated these process equipment using high-quality mild steel and stainless steel.
The ABSTER™ RIBBON BLENDER is machine widely used for the manufacture of dry powder, talcum powder, granules, spice and low-viscosity paste and liquid in chemicals, pharmaceuticals, food and cosmetics industries. It's especially suitable for mixing solids with solids and solids with liquids, Approximate two third of the volume of the container of Ribbon Blender/mixer is filled to ensure proper mixing. Ribbon Blender mixer is Suitable for Pharmaceutical Materials, Crystalline, Insecticides, Pesticides, and Food industry and heat sensitive, Chemical and Cosmetic products handling large Dry and wet powder volume. It consists of a horizontal "U" Vessel with horizontally installed shaft.
ABSter RIBBON Mixers has been developed with advanced technology to achieve high blending capabilities and is among the most efficient machines in the market. The ribbon mixing equipment can be used in either the batch or continuous flow form to achieve an even and homogeneous blend in a wide range of products.
The blending technology is widely used in industries such as pharmaceutical industries, food processing, animal feed processing, chemical, fertilizers, cosmetics, pigments, and also insecticides manufacturing. The vertical blender mixer is also important in the process of distribution of liquids and pasty products in micro dosages on to carriers.
The ribbon agitator is powered by a drive system comprised of a motor, gearbox, and couplings. Ribbon blenders are generally powered by 10 HP to 15 HP motor for 1000 kg of product mass to be blended. The specific power may range from 3 to 12 kW/m3 depending on the products to be blended.
Applications of ribbon blender
Food and ingredients infant formula, cocoa mix, instant salad dressing, cake mixes, spices, seasonings, flavorings, gelatin ... The list of food material in which our blender can speed up mix times and provide consistent uniformity, goes on and on. Variety of feed and discharge arrangements are possible to tailor to your needs.
Our blender provide the required uniformity in shorter times which means less dusting and breakage of the ingredients that can cause gastric ulcers in the animals, and bridging of downstream handling equipment. Additionally, by using scrapers or drop bottom discharge, the amount of material left over between batches is minimized, reducing the opportunity for bacterial growth.
Slurries the action within ribbon blender is vigorous enough to homogeneously distribute liquid slurries. Special high speed intensifiers can be added to the bottom to help break lumps that may be present. Proper shaft seal design is critical for handling liquids. Shaft seal choices include: mechanical, packing glands and double mechanical glands and double mechanical.
Standard features of ribbon blender
Ribbon blender are available in working capacity of 50 litters - 8,000 litters
Ribbon blender is mounted on supports providing adequate discharge clearance.
Ribbon blender are available in different grades of stainless steel 304, 316, mild steel, carbon steel and special alloy steels.
Standard ribbon blender are available in center discharge and also configurable as per requirements
Ribbon blender are available centrally located flush bottom discharge.
Ribbon blender's top cover depending on the length of the agitatorstainless steel surfaces are polished to desired standards. All exterior non-stainless surfaces are painted with automotive paints.
Optional accessories of ribbon blender
Dimpled or baffled jackets for heating or cooling
Continuous ribbon agitator for end discharge, interrupted ribbon for higher density materials, paddles for full or partial loads.
Wear resistant liner plates for abrasive products.
Manually or pneumatically operated butterfly valve, slide gate valve, diaphragm valve, et cetera for discharge
Split design stuffing boxes, air-purging stuffing boxes, mechanical seals.
Explosion-proof motors, variable speed drives along with electrical control panel.
Spraying system for liquid injection
Lump breakers for solids or agglomerates size reduction.
Vacuum and pressure construction
Inspection, cleaning windows on the container, cover
Cover openings, nozzles as required.